The bathroom gets less credit than it deserves; even though this part of a home might appear as relatively irrelevant, it is fully capable of making or breaking an entire property. Regardless of whether you're looking to revamp the bathroom for your own pleasure, or in order to boost your home's value, you've come to the right place!
Make it feel larger
Everyone loves large bathrooms, but not everyone has an opportunity to own one. While tearing down walls is a viable solution, most people prefer going around this headache. Luckily, this room doesn't have to be huge in order to give off that feeling.
Think in terms of mirrors, because they really can do wonders when it comes to aesthetics. There's a genuine reason why most supermarkets and stores put reflective surfaces next to their product displays: in order to create the vibe of roominess and the feeling of plenty. The same goes for bathrooms. Strategically place mirrors so that they both make the room appear broader and properly reflect sunlight, providing it with much-needed illumination.
Pro tip: never put a mirror facing your toilet.
Lighting
Sure, having the room properly lit is of the essence – shaving and putting on makeup can't be done properly in a dim atmosphere. On the other hand, a cozy, relaxing bubble bath is never complete without moderate, atmospheric lighting.
Dimmers are simple devices that can help you tweak the amount of light in accordance with your needs; we advise that you definitely install this technology.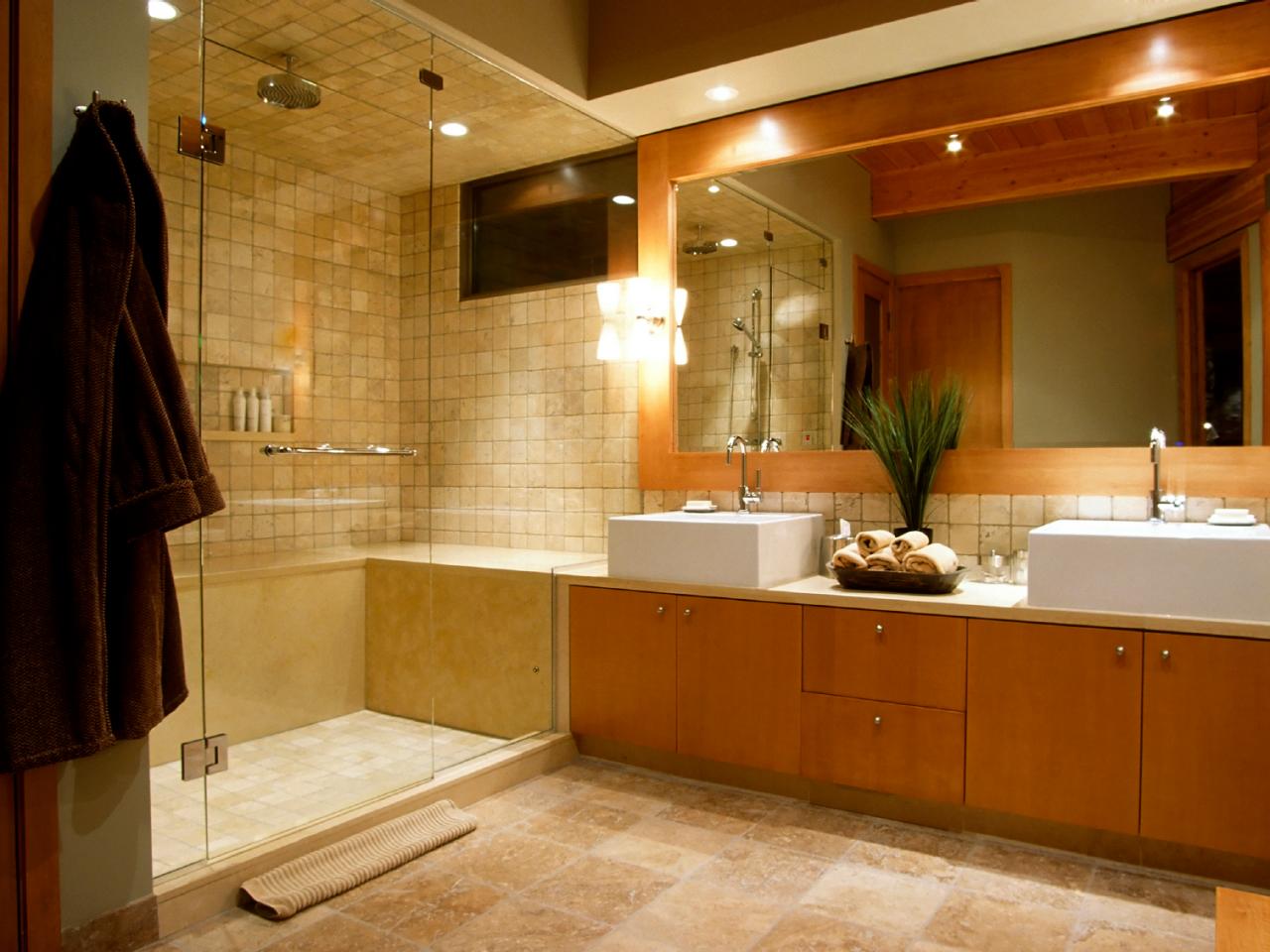 Pro tip: go with LED or CFL lighting, as these fixtures will supply the room with illumination that's as close to sunlight as artificial bulbs get, in addition to being eco-friendlier and better for your own budget.
Place the toilet properly
Toilet is not something you want to see as soon as you open the door – it simply isn't aesthetically pleasing; not one bit. Besides, if you want a spa-themed vibe, the john is definitely not something that's going to help you achieve it. Instead of putting the toilet front and center and completely butchering the feel that your bathroom gives off, place it in the least conspicuous place possible; think corners, behind cupboards, etc.
Walk-in showers
A small bathroom will always be a problem, no matter how well you place the mirror(s), and even if you opt for a shower, this might end up taking too much space. Well, here's a neat solution: simply designate a shower area and don't put the entire appliance – a faucet and a sliding glass are more than enough! This will make even the tiniest of bathrooms appear spacious and you won't even have to worry about cleaning the doors, just the sliding glass.
Wall-mounted faucets
Mount a faucet on the wall and enjoy the option of a narrower sink/vanity – an awesome solution for tight bathrooms. If you're worried that this will make your facilities give off a public vibe, you can rest easy, because a wall-mounted faucet can go hand-in-hand with any design, even with a traditional one!
Custom bathrooms
For those who aren't interested in designing their own bathrooms, but want them looking top-notch, here's a trend that's becoming vastly popular all across the States and Australia: custom bathroom renovations. For example, many companies that specialize in bathroom renovations in Sydney offer galleries that feature cool custom-designed bathroom concepts to choose from. Opt for a unique one to make your bathroom truly special.
Go bright
Bright colors are currently very trendy in bathrooms; and even if this trend ends up nothing more than a fad, the color white has always worked perfectly well with home facilities. Keep in mind, however, that if you choose white for your floors, walls and the ceiling, you should do so through and through – a dash of gray is acceptable (even recommended), but going wild with colors can easily leave the entire room looking very goofy.
Other than the mentioned bathroom renovation designs, feel free to get creative, as long as your ideas don't contradict the ones mentioned. Keep in mind the lighting, toilet placement, custom bathroom designs, as well as any idea that will make the room appear larger – this is always a good choice.